Beginning at the southern lot line along Saratoga, the entrance to the seniors residence is pulled back 35' from the street line. This recessed entry sits below an overhang from the floors above that forms the basic rotated massing along Saratoga. The rotated massing provides a canopy overhang the changes in width from about 10' at the seniors; residence entry to 5' at the corner. This 5' overhang continues along Fulton until the ground floor bends back again near the western end of the site.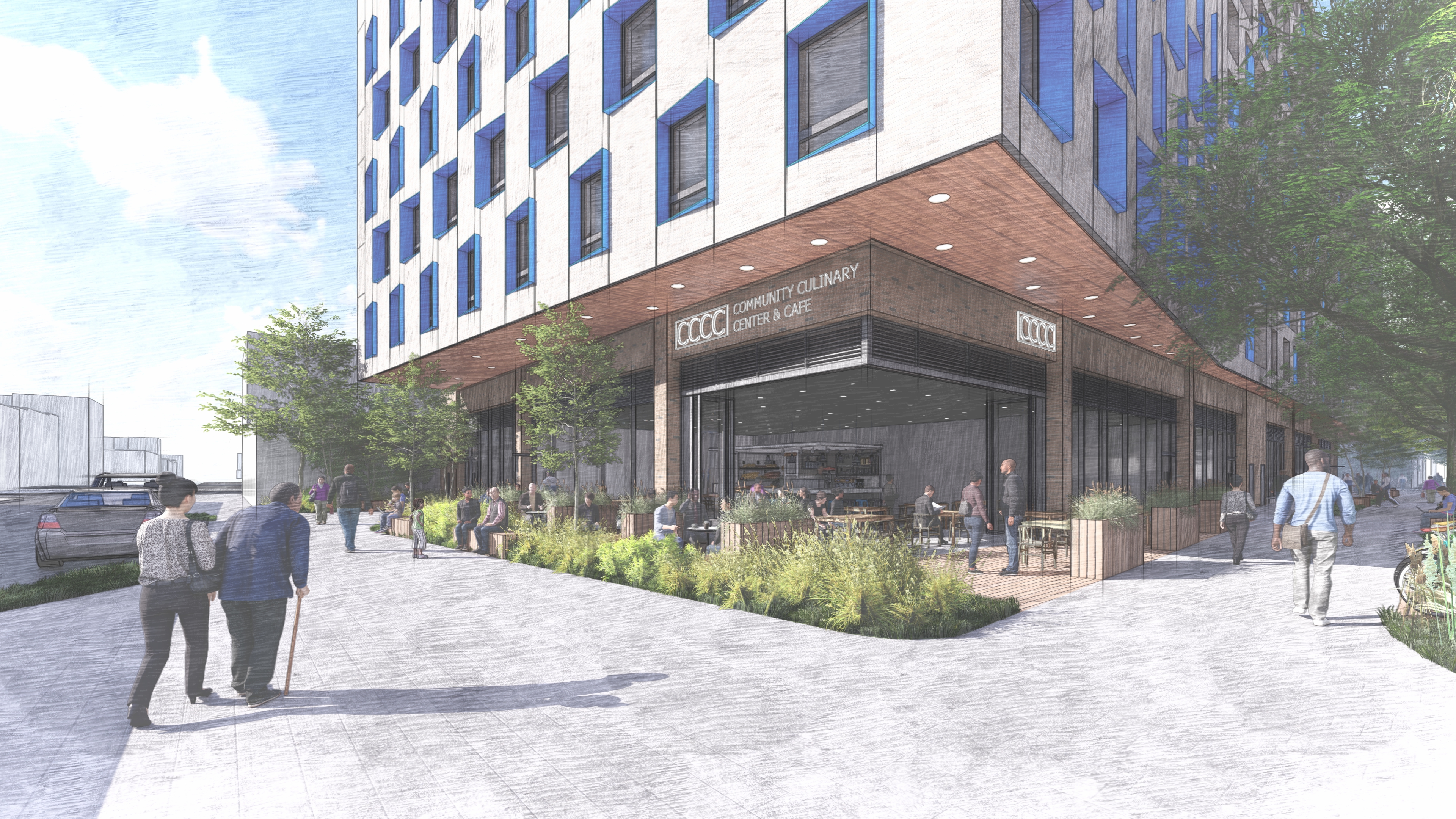 The remainder of the ground floor along Saratoga is pulled back 25' with a curbside drop-off area provided, bioswales, and outdoor café seating.
Aside from the school complex across Saratoga, there are few public institutions within walking distance. The commercial establishments nearby are sparse and tend to provide services such as laundry, hardware or deli. A few nonprofit organizations appear to be the only fresh food options, which underscores the lack of healthy eating options in the area. In terms of open space, there is only one playground that is easily accessible – the others nearby require crossing Atlantic Avenue.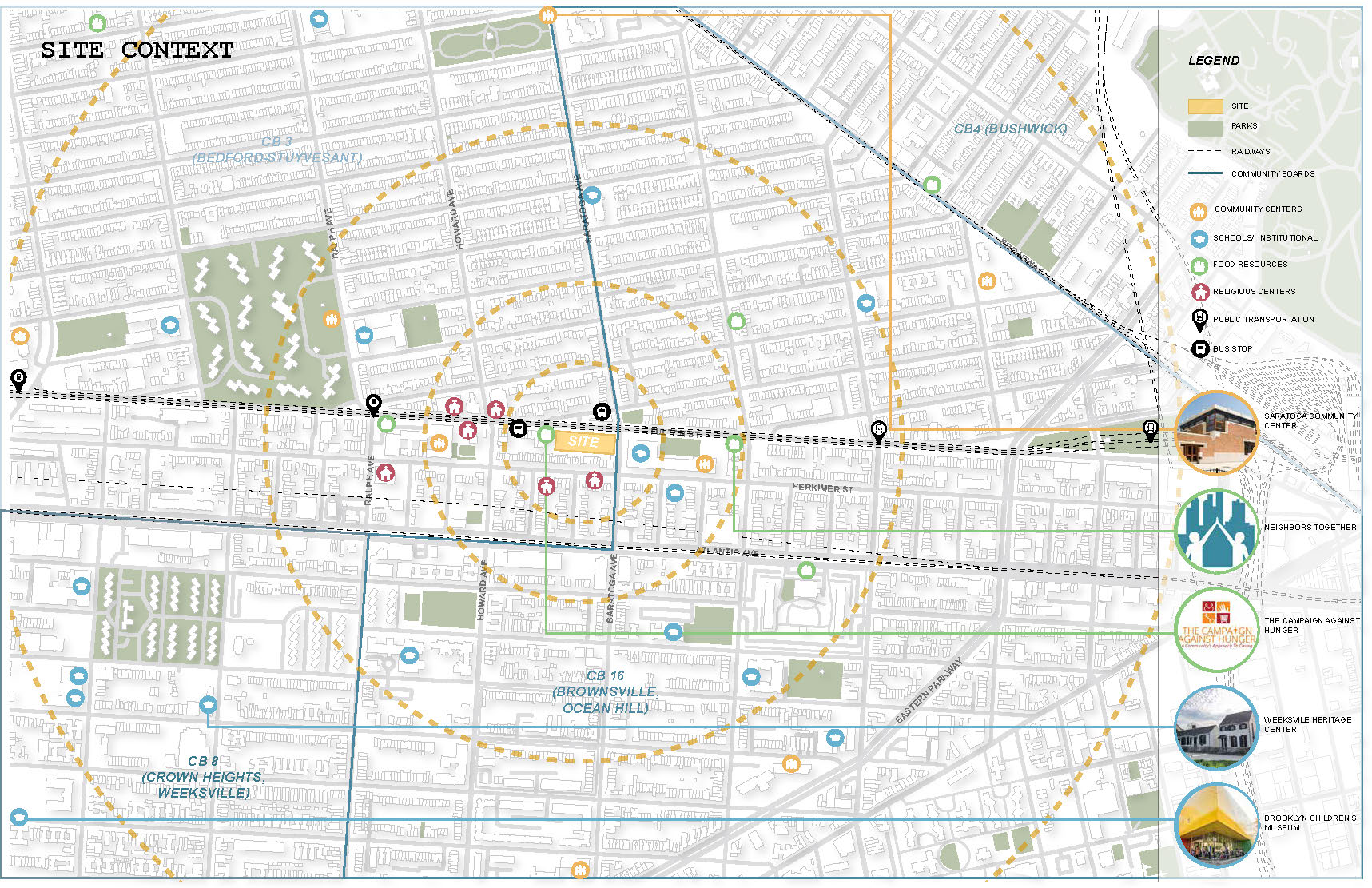 Overall, the area adjacent to the site lacks community resources, particularly those related to health and wellness.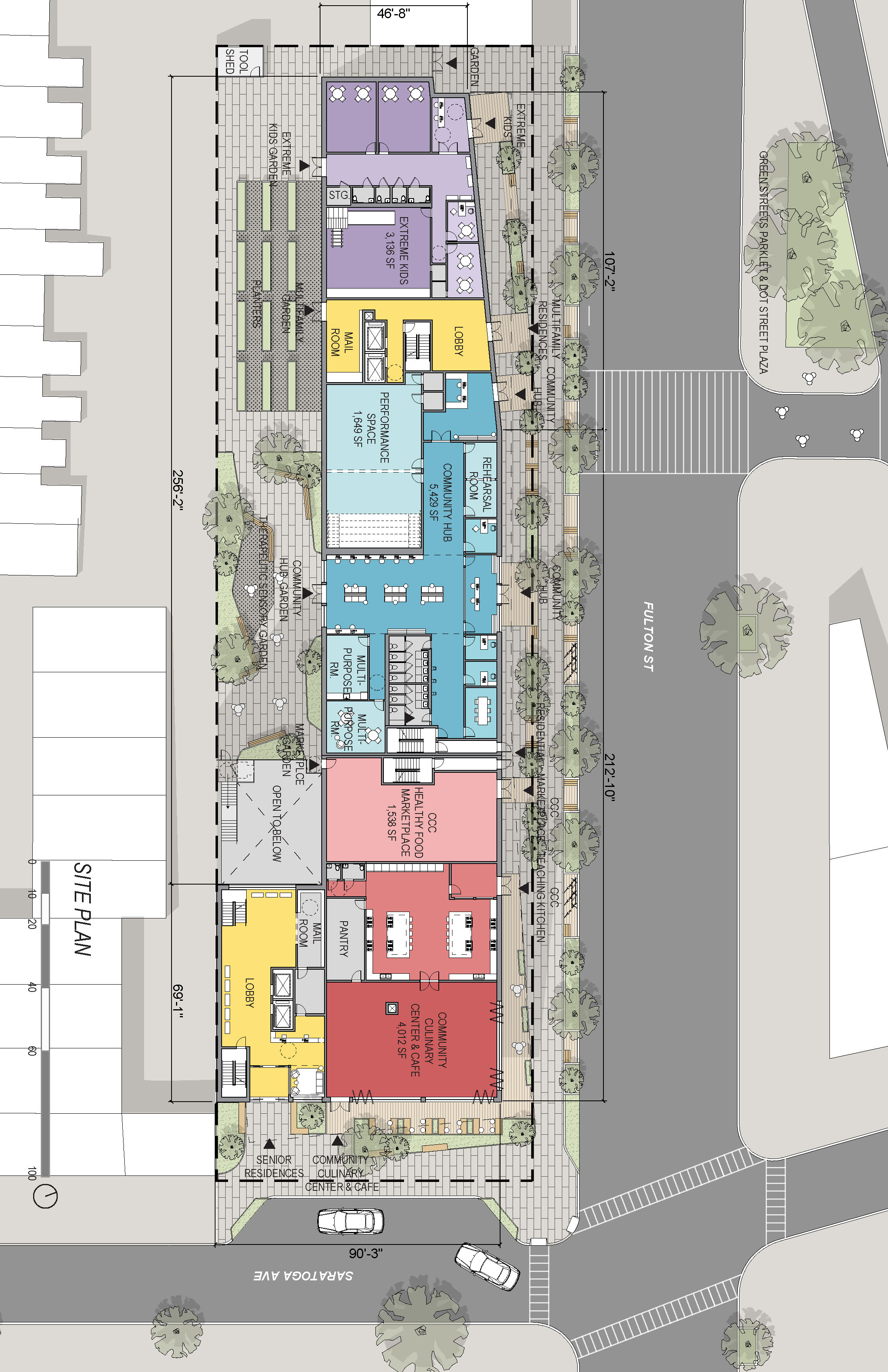 The proposed design includes a mix of programming intended to meet these needs for community resources related to health and wellness. The Culinary Center and Café, the Vibe Theater, Extreme Kids, and the other uses forming a new community hub are enhanced and supported by a distinctive streetscape that bring a diverse mix of people together with two main nodes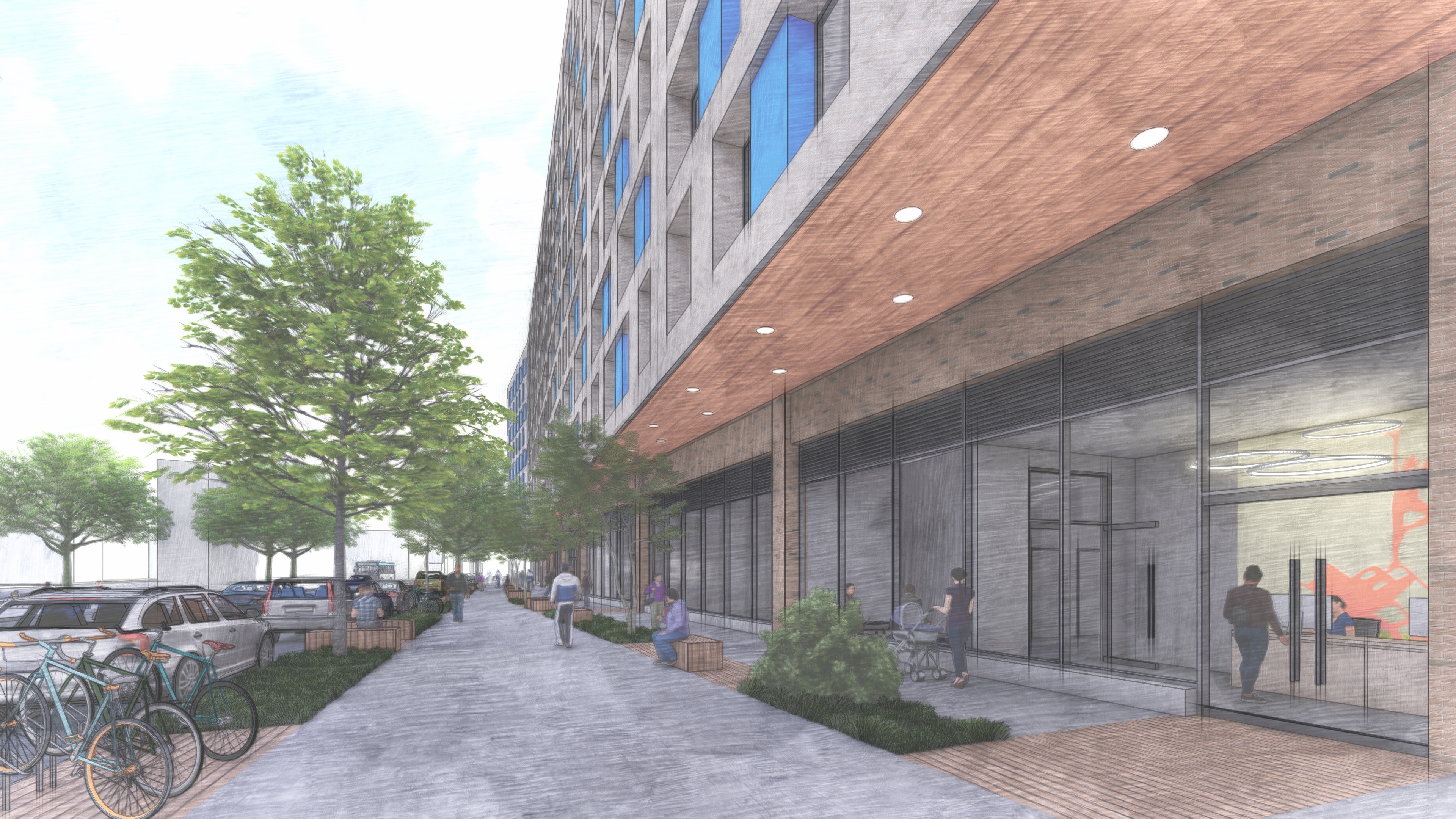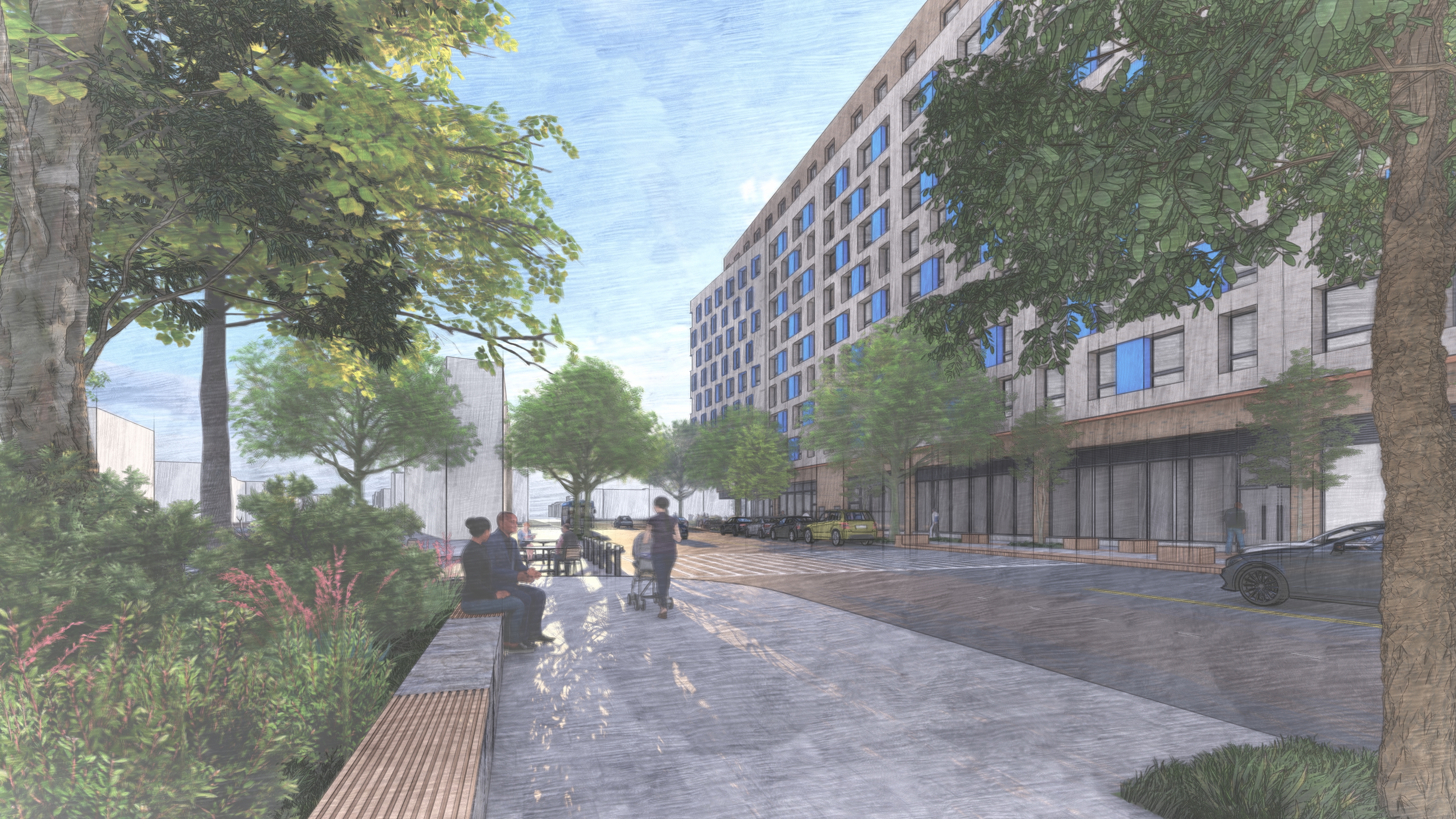 The second node is the new proposed DOT street plaza that would enhance the existing Greenstreets parklet at the intersection of Hull & Fulton. This new plaza would be part of the city's Vision Zero Plan and would extend the Fulton streetscape on the development site into a true urban oasis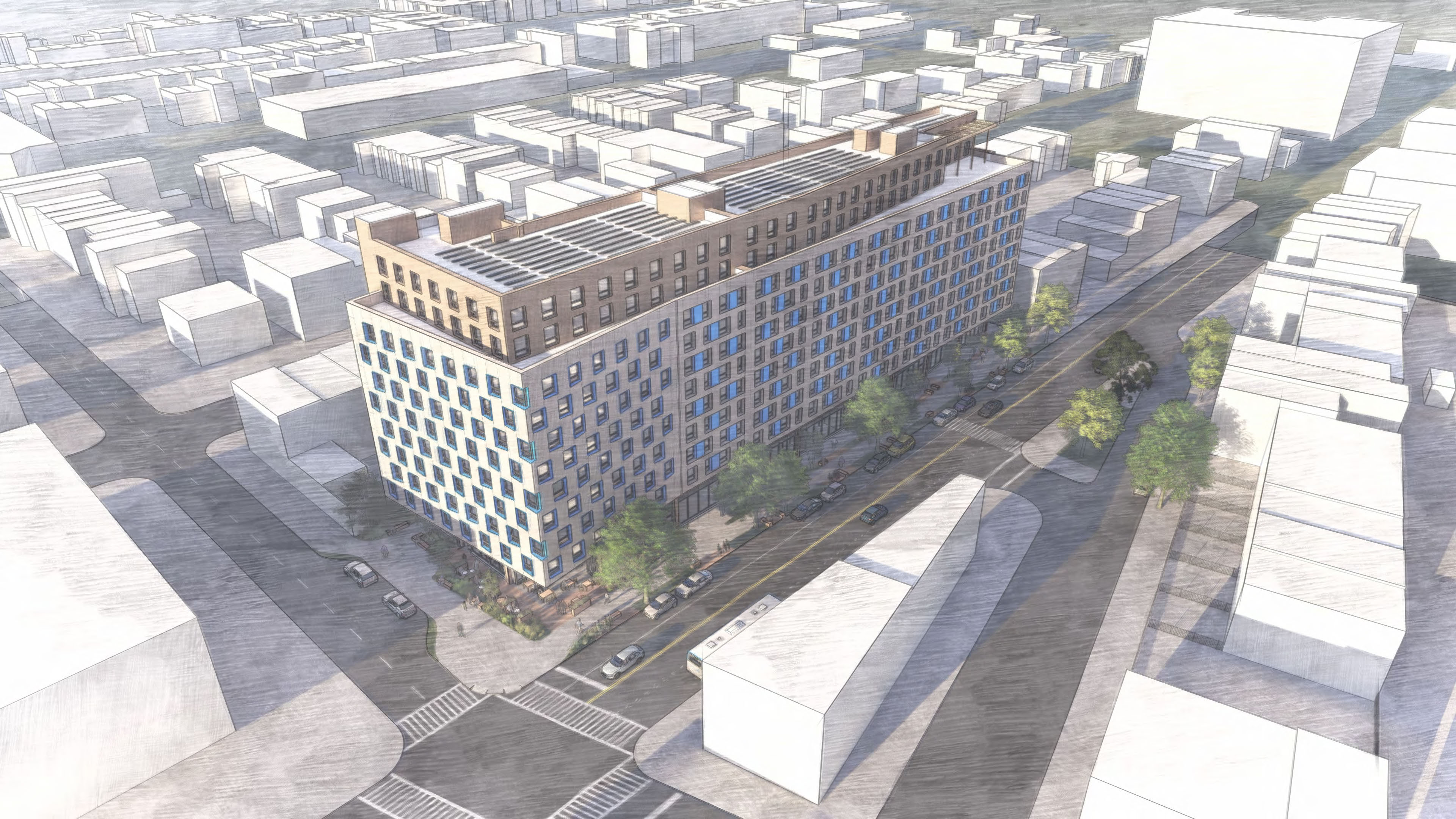 Saratoga Bend is designed to excel in sustainability and support and improve the well-being of the residents and the Bedford-Stuyvesant community in which it is located. The project is designed to Passive House standards, and will achieve Enterprise Green Communities certification. This project will also take advantage of the new partnership between Enterprise and WELL to achieve WELL Building certification concurrently with Enterprise Green Communities 2020.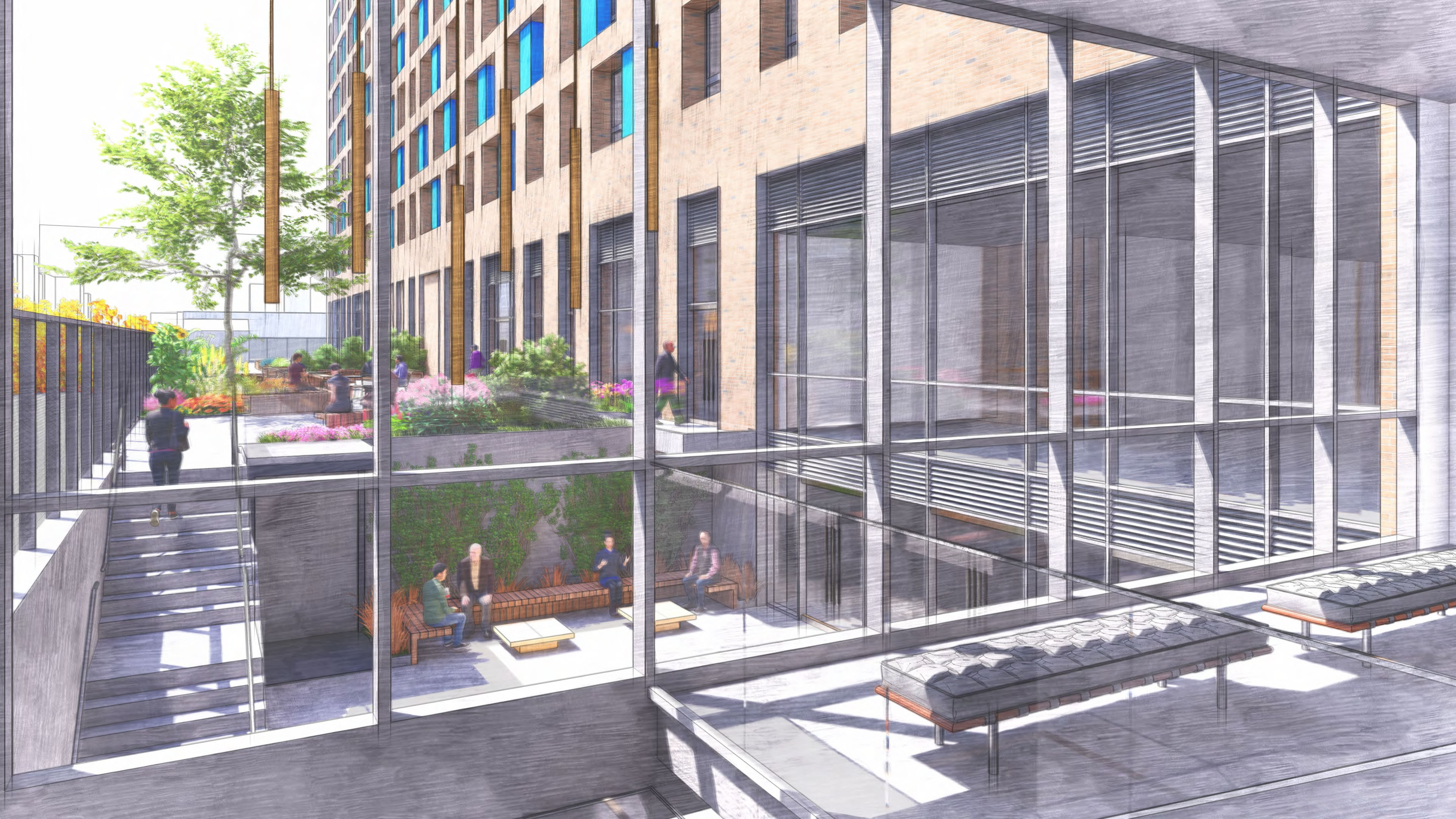 The project also achieves design excellence through its commitment to Active Design. The mix of programs and vibrancy of the ground floor design along with the planting at the street front encourage walking and engagement at the street. The planting beds, therapeutic sensory garden, and recreational roof terraces further promote physical activity and healthy living for all ages. The variety of open spaces programmed for recreation and play are a vital part of the healthy lifestyle promoted at Saratoga Bend. And within the building, welcoming reception areas with plenty of natural light, and visual interest in the stairwells such as mural and colored accent walls will promote physical activity as well.